Perfect Wedding Venue with Exceptional Catering and Decorations
When planning your dream wedding, finding the right venue that offers catering and decorations is essential for creating a memorable celebration. The Cellar Baltimore, located in the heart of the city, is a premier wedding event hall that combines elegance, convenience, and exceptional services.
Determine your needs and preferences:
The Cellar Baltimore boasts a versatile space that can accommodate both intimate gatherings and larger celebrations. The venue's chic and modern ambiance, coupled with its convenient location, makes it an excellent choice for Brides and Grooms looking for a sophisticated setting for their wedding celebration.
Research venues with decoration services:
At The Cellar Baltimore, we believe that every wedding should be a masterpiece of design and ambiance. From elegant floral arrangements to enchanting lighting, we pay attention to every detail, ensuring that your wedding decor is nothing short of breathtaking. We create a visually stunning atmosphere that sets the perfect backdrop for your wedding day. Trust The Cellar Baltimore to bring your wedding decor dreams to life, creating a truly memorable and awe-inspiring experience for you and your guests.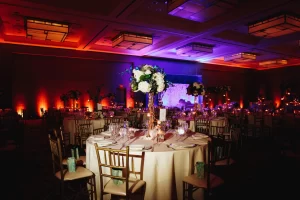 Read reviews and seek recommendations:
With a remarkable collection of over 100 glowing 5-star reviews, we have become renowned in the Baltimore area for creating unforgettable wedding experiences. The heartfelt stories shared by our past clients are a true reflection of our commitment to ensuring your utmost satisfaction. When you choose The Cellar Baltimore, you can trust that your wedding day will be in the hands of a team dedicated to making your dreams come true. Let us be your trusted partner as you embark on this incredible journey of love and celebration.
Schedule visits and tours:
A personal visit to The Cellar Baltimore will confirm the beauty and functionality of the venue. Their well-appointed event hall features stunning architectural details and ample space for both ceremonies and receptions. During a tour, you can discuss your vision with their attentive staff and witness firsthand how the venue can be customized to reflect your unique style.
Inquire about catering options and menus:
At The Cellar Baltimore, our commitment to excellence goes beyond just catering. We treat our customers as honored guests in our own homes, surpassing their expectations every step of the way. With a dedicated chef at the helm, we handpick the freshest and finest ingredients to ensure an exceptional catering service for your wedding. Our menu options rage from hors d'oeuvres to multi-course meals and customizable menu options to dietary accommodations. The Cellar Baltimore's catering services are second to none.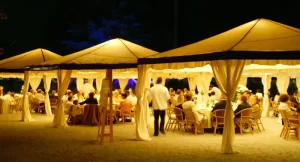 Understand pricing and packages:
The Cellar Baltimore provides transparent pricing and flexible packages to suit various budgets and requirements. They offer comprehensive packages that include catering, decorations, and other essential services, making it easier to plan and budget for your wedding. Their pricing structure is designed to ensure exceptional value while maintaining the highest quality standards.
Review contracts and policies:
When choosing The Cellar Baltimore, you can expect a clear and detailed contract that outlines all the agreed-upon terms and conditions. Take the time to review their policies, including cancellation and refund policies, to ensure a smooth planning process and a stress-free wedding experience.
If you are looking for a wedding venue in Baltimore that offers superb catering and breathtaking decorations, The Cellar Baltimore stands out as an exceptional choice. With its elegant event hall, in-house catering, and customized decoration services, it fulfills the key factors to consider when searching for the perfect wedding venue. Schedule a visit to The Cellar Baltimore, and let their team of professionals transform your dream wedding into a reality, creating memories that will last a lifetime.
Topics that may interest you
Hosting a Small Business Event
Hosting corporate events is not exactly like hosting a party. It requires a different mindset. These events are more on a professional than personal basis. We can help…
The Cellar At Maiden Choice
Party planners and experienced hosts know that starting with the perfect location is the foundation in planning an amazing party. While it can be frustrating and challenging to find the perfect…
Why Book a Corporate Party
In planning your event, there any many questions you will have to ask yourself. The number one is; where to host the event? There are many reasons why you should rent a banquet hall.